CaesarStone Quartz Surfaces and Countertops offer the ultimate combination of form and function, allowing for a more diverse, durable, and practical countertop surfacing material than either granite or marble.
Cambria manufactures surfacing materials made from quartz. By a sophisticated process of vibro-compaction, we give unique attributes to Cambria products. Our product personifies resilience and strength, with the ease of maintenance and durability.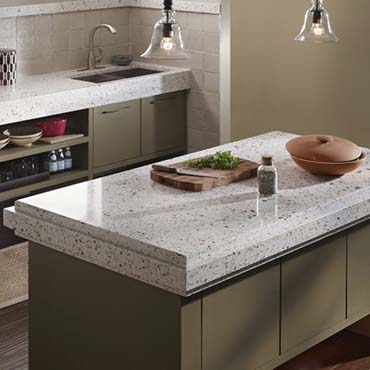 Silestone is an engineered quartz surface that looks, feels and weighs like natural granite and marble.
Zodiaq® quartz surfaces is a new category of surfacing material from DuPont made with natural quartz for interior use in homes and commercial buildings. Uniquely radiant, brilliant and clear, Zodiaq® is a high-fashion material with strong performance characteristics. Zodiaq® quartz surfaces give you an innovative way to create environments with a bold, distinctive, sophisticated look that attracts attention and expresses individuality.