Welcome to Tashjian Rug Company
Featured Brands
Shaw Laminate Flooring provides consumers all the benefits of this latest flooring technology,
Kathy Ireland's rugs are beautiful, durable, machine-crafted of plush 100% polypropylene in a Wilton woven construction inspired by her travels all over the world.
Schluter-Systems is committed to providing reliable ceramic and stone tile installation systems that not only solve problems but benefit the entire tile industry as well. As part of this commitment, we have invested considerable resources in testing our products to relevant industry standards. Such testing is performed both inhouse and by independent laboratories, including the Tile Council of North America (TCNA), the Terrazzo, Tile, and Marble Association of Canada (TTMAC), and the National Research Council in Ottawa, Canada.
Nafco is your beautiful alternative with an amazing array of colors and patterns to match any decor. Nafco has floors that mimic nature, floors that burst with contemporary color and energy, floors that capture your imagination – and attention! Nafco combines timeless themes with durability and ease of maintenance to create flooring that looks great and performs even better!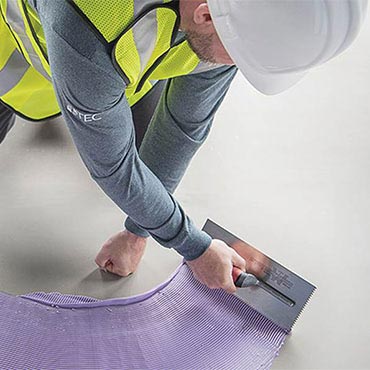 TEC Specialty Products manufactures and markets ceramic tile installation products flooring adhesives, surface preparation products, exterior insulation finish systems and epoxy terrazzo flooring. Customers are professional contractors and do-it-yourself consumers. TEC brand products can be found at leading wholesale building material distributors and home centers throughout North America and in selected other countries. TEC's direct sales force delivers personalized service and technical expertise.
828 International Trading Company is driven by the desire to deliver rugs of unsurpassed quality and style.To that end, we travel the globe to employ weavers and designers who can create rugs that exceed your expectations. From our Naturally Collection of polypropylene sisals to our Sonnet Series of wool English Axminsters, 828 International defines variety with rugs that cover a wide range of fibers, weaves, designs, sizes, and colors.