Welcome to EF Maguire Floorcovering
Featured Brands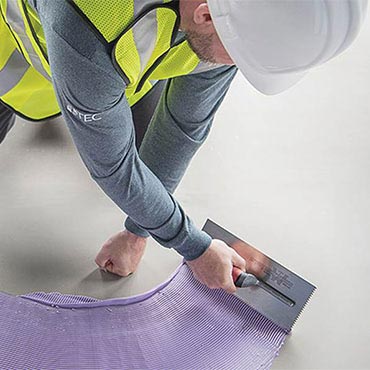 TEC Specialty Products manufactures and markets ceramic tile installation products flooring adhesives, surface preparation products, exterior insulation finish systems and epoxy terrazzo flooring. Customers are professional contractors and do-it-yourself consumers. TEC brand products can be found at leading wholesale building material distributors and home centers throughout North America and in selected other countries. TEC's direct sales force delivers personalized service and technical expertise.
Welcome to everyday. That wonderful series of day-to-day moments strung together where real life happens. And they can sometimes be kind of messy. Like crafty-pasty-paper mache day. And dining-room-hockey-practice day. And let's-make-a-tent-in-the-living-room day. It's for those very real reasons that we created Tarkett® Vinyl Sheet Flooring that wears not tears. That cleans up easily. That stands up to everyday life and looks good doing it. Real floors for real life.
WELCOME TO THE WORLD'S MOST INTEGRATED flooring system. Now it's easy to make choices that balance function and aesthetics. Short-term cost with long-term investment. Safety with efficiency. Sustainability with performance. Our mission is to integrate design and life-safety into flooring and stairwell solutions to create more productive, safer spaces that are aesthetically pleasing and add to our customers' economic success.
Interceramic, a top manufacturer and distributor of ceramic tile and natural stone in North America was founded in 1979 by Oscar Almeida, his family and partners. Today, Oscar's son, Victor Almeida is the chairman and the Chief Executive Officer operating all Interceramic business in Canada, United States, Mexico, Central America, and China. During the first two years of business, Internacional de Cerámica produced 13 million square feet of ceramic floor tile. Today, we are capable of producing 500 million square feet of ceramic floor and wall tile in our Mexican and U.S. operations.
A trusted brand for over a century. Superior quality through exacting precision in the milling process and rigorous inspections featuring up to 75 quality checkpoints. A luxurious selection of design styles, colors, species, and specialty finishes.