Looking for Natural Stone Floors?
Look no further than Mystic Granite & Marble.
---
About Mystic Granite & Marble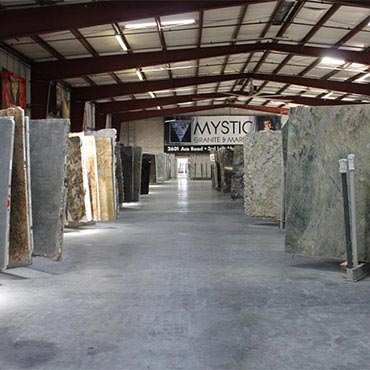 Starting from her dining room table in 1995 with limited inventory and funds, Darlene Spezzi had a vision of creating a dynamic and unique company. Scraping together investment money from savings and loans and recruiting help from her sister, Donna Mauro, Darlene began to lay the foundation of what would become Mystic Granite & Marble; one of Florida's most successful distributors of natural stone in tile and slab.
In the beginning sales started slowly. With no delivery truck, fabricators picked up their own orders. With hard work and dedication, sales soon reached a half a million dollars. Darlene invested in more advertising and marketing and visited potential customers with information on new products. She also splurged and bought a red delivery truck.
Darlene continued to listen to the needs of the Orlando market as home construction started to boom. It was the beginning of the "stone age" when granite and marble's popularity began to surge in Central Florida. Natural stone for kitchen and bathroom countertops was in high demand. Decorators wanted more colors to offer their clients and Mystic was ready to deliver.
With Darlene Spezzi as President/CEO, today's Mystic employs over 50 people and offers a fleet of trucks for delivery of slab and tile. Mystic specializes in distributing unique, exotic stone as well as first-quality stone, hand-selected from around the world. Her sister, Donna Mauro is still at her side as vice-president, presiding over day-to-day operations. The company also employs knowledgeable stone specialists that service commercial and residential clients throughout the state of Florida. Mystic's award-winning marketing department provides photos and natural stone information to clients while also hosting educational seminars and events for homeowners, fabricators, builders, designers and architects.
Mystic offers a unique selection of natural stone to residential, commercial and cut-to-size projects. Architects, builders, fabricators and homeowners alike can look to Mystic for natural stone solutions for any project. Mystic's commercial team has helped supply stone for such esteemed clients as the Orlando Aviation Authority Headquarters, Bank of America and Sheraton.
Mystic stocks over one million square feet of natural stone tile in granite, marble, onyx, travertine and slate and more than 16,000 slabs of granite, marble, onyx and travertine imported from countries such as Brazil, India, Saudia Arabia, Spain and Italy. Mystic's 4,000 sq. ft. showroom and design center, located at 100 W. Colonial Drive, offers customers the highest level of customer service in a comfortable, professional and educational environment.
Mystic's future continues to be bright. With expansion plans in the works, Mystic's showroom, warehouse, slab yard and corporate headquarters will soon relocate to a larger, more convenient facility. Final plans are also being made to offer seminars to architects where they can learn about natural stone selection, application and care and receive continuing education credits for attending. This seminar offering will soon be expanded to include interior designers who can also attend and receive continuing education credits.