Looking for Area Rugs?
Look no further than Marc Phillips Fine Rugs.
---
About Marc Phillips Fine Rugs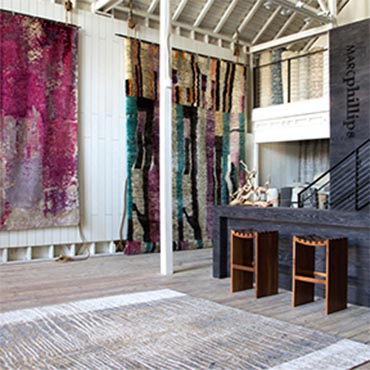 Marc Phillips Decorative Rugs has been a leading innovator and manufacturer amongst architects and interior designers for outstanding hand-made rugs and exotic wood flooring for over a decade. The traditions of the 35 year-old family craft have been passed down through the generations, finally landing in the hearts of Philadelphia and New York City.

Marc Phillips Decorative Rugs believes that a rug with a pleasing color palette can set the mood for a room and act as the inspiration for a beautiful setting. To find the perfect pieces to showcase in their studios, they travel the globe researching carpet history and styles. Marc Phillips Decorative Rugs works side-by-side with an international team of designers, artists and weavers. Making great friends during their travels abroad, ensures customers fast lead times and impeccable workmanship. Marc Phillips Decorative Rugs always returns home feeling confident that they have both created and selected, the world's best rugs.

Travels to ancient lands like Nepal, India, Pakistan, China, Romania and Turkey, instill a revolutionary design esthetic that can not be matched. The culture, art and history of these countries inspire the exclusive Marc Phillips Decorative Rugs line. The carpets are a woven fusion of traditional art and fresh contemporary interpretations. Marc Phillips Decorative Rugs re-invents new color combinations and designs, and experiments with new textures utilizing wool, silk and other natural fibers. The final result is a line of the most beautiful masterpieces in carpets today.

Clients who visit Marc Phillips Decorative Rugs showrooms will work directly with the owners. If a customer is looking for a particular color combination and design and the perfect rug does not exist, their team of artisans will help to create your vision. The Custom Department can satisfy a client's specific needs to find the perfect color, size, texture and design.