Looking for Wood Flooring?
Look no further than DuroDesign Cork Flooring.
---
About DuroDesign Cork Flooring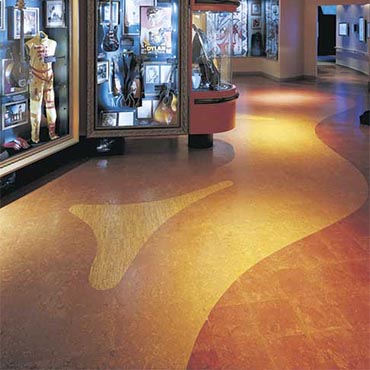 Cork is the ultimate green flooring material
Cork is a completely renewable resource harvested as bark from living cork trees, never harmed by the harvest. Our cork flooring is composed of 100% post-industrial recycled content from wine-stopper production.
Cork trees store carbon in order to regenerate their bark, and a harvested cork tree absorbs up to five times more than one that isn't.
Comprised of millions of air-filled cells, corks absorbs sound, impact, stays warm and always remains resilient.
DuroDesign makes two types of cork flooring
DuroDesign offers cork flooring in 54 colors and six patterns for an incredible selection. DuroDesign cork floors are available in either glue-down cork tiles or click-together floating floor planks.
Our cork tile flooring is installed in much the same way as vinyl or resilient flooring over smooth concrete or plywood. DuroDesign floating cork floors may be installed directly over an existing floor, concrete slabs or construction-grade plywood.
DuroDesign produces beautiful cork flooring
We achieve clear and crisp colors for our cork flooring with only the best quality pigments to preserve its naturally beautiful texture. DuroDesign cork floors are finished with our MP765 polyurethane finishing system formulated for the utmost in durability, abrasion resistance, clarity and resilience to provide decades of service to your cork floor.
DuroDesign cork floors are covered by our 25-year structural and 5-year renewable finish warranty.
Build green and achieve LEED® certification
LEED® MR Credit 4.1 and 4.2: Recycled Content
LEED® MR Credit 6: Rapidly Renewable Materials
LEED® EQ Credit 4: Low-Emitting Materials
Six patterns for a truly unique floor
Explore the unlimited design possibilities. Cork flooring cuts easily to create floor mosaics, flooring borders and other floor designs.