Looking for Ceramic/Porcelain?
Look no further than Glazzio Tiles.
---
About Glazzio Tiles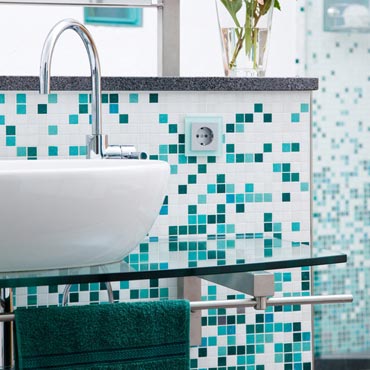 Glazzio Tiles offers a unique appearance unachievable with conventional tiles. The vibrancy and depth of color combined with the reflective quality of glass results in a unique and dramatic effect, whether used in the home or modern commercial buildings.
Glass tiles are suitable for both internal and external applications impervious to frost, sun light and water. They are easy to clean, maintain and never discolor. They will continue to provide a dazzling appearance for many years to come.
Glazzio Tiles can be used in a virtually unlimited range of applications, for instance:
Kitchen walls and back-splash
Bathroom wall and back-splash
Showers
Borders to soften conventional ceramic tiled walls
Highlight external building features and garden walls
Pools, spas and waterfalls
And any applications to suit your imagination
With the use of effective spot lighting color glass tiles can turn the most undesirable of areas into a stunning and dazzling work of art.
Glazzio Tiles stocks a large range of different color style and sizes. Any item, which is not a stock can be custom made to suit your taste and requirements.
Talk to a flooring expert in your area to find the best materials.
Find a flooring professional you can trust. This can save you time, money, and effort in the long run by avoiding costly maintenance or early replacement.