EarthWerks Waterproof Flooring
Looking for Waterproof Flooring?
Look no further than EarthWerks Waterproof Flooring.
---
About EarthWerks Waterproof Flooring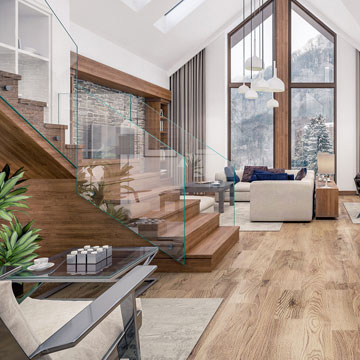 EarthWerks Waterproof Flooring: The Durable Choice for Modern Living
Introduction
In today's world, where aesthetics, durability, and practicality are equally important in home design, flooring is one of the most critical aspects to consider. EarthWerks Waterproof Flooring offers a combination of all these elements. Designed to withstand the harshest conditions while maintaining a stylish appearance, this brand has quickly become a go-to choice for homeowners and interior designers alike. In this article, we'll explore the features that make EarthWerks Waterproof Flooring stand out, delve into its product range, and discuss why it could be the perfect choice for your home.
Superior Waterproof Technology
The primary feature that distinguishes EarthWerks from other flooring options is its advanced waterproof technology. Ideal for homes with children, pets, or simply a high volume of foot traffic, EarthWerks flooring ensures that accidental spills and wet conditions won't compromise its integrity. This makes it an excellent option for kitchens, bathrooms, and outdoor spaces, where water exposure is inevitable.
Aesthetic Versatility
One of the most attractive features of EarthWerks flooring is its versatility in design. Whether you're aiming for a rustic, traditional look or desire a sleek, modern aesthetic, EarthWerks offers a range of colors, textures, and styles to fit your vision. From luxurious wood-like planks to stone-effect tiles, EarthWerks brings you the beauty of natural materials without their maintenance issues.
Sustainability
In an era where environmental responsibility is more crucial than ever, EarthWerks stands as a sustainable choice. The brand takes significant steps to ensure its products are eco-friendly, from using recycled materials to adopting energy-efficient manufacturing processes. This means you can have a beautiful floor without worrying about its environmental impact.
Durability and Maintenance
EarthWerks flooring is constructed with durability in mind. Made with high-quality materials that resist wear and tear, these floors are built to last. Furthermore, the maintenance is relatively hassle-free. Regular sweeping and occasional mopping are generally all that's needed to keep your EarthWerks floor looking new.
Product Range
Luxury Vinyl Plank (LVP): Mimics the look of hardwood while offering superior water resistance.
Luxury Vinyl Tile (LVT): Provides the aesthetics of stone or ceramic tile, yet much easier to install and maintain.
WPC (Wood Plastic Composite): Combines the beauty of wood with the durability of plastic, ideal for high-traffic areas.
SPC (Stone Plastic Composite): Extremely durable and perfect for commercial spaces or households with heavy foot traffic.
Installation and Warranty
Installing EarthWerks flooring is straightforward, often featuring click-lock systems that simplify the process, making it accessible even for DIY enthusiasts. Additionally, EarthWerks products come with comprehensive warranties, underscoring the brand's confidence in its durability and longevity.
Conclusion
EarthWerks Waterproof Flooring offers a balance of practicality, durability, and style, making it a comprehensive solution for modern living spaces. With its advanced waterproof technology, variety of aesthetic choices, and commitment to sustainability, EarthWerks is an investment in both your home and the planet. Whether you're remodeling a small bathroom or planning a large commercial space, EarthWerks provides a reliable and attractive flooring option that will stand the test of time.
Disclaimer: This article is for informational purposes only and does not serve as an endorsement or a review of the brand. Always conduct your research and consult professionals before making any purchasing decisions.
Talk to a flooring expert in your area to find the best materials.
Find a flooring professional you can trust. This can save you time, money, and effort in the long run by avoiding costly maintenance or early replacement.