Linden Lumber Wood Flooring
Looking for Wood Flooring?
Look no further than Linden Lumber Wood Flooring.
---
About Linden Lumber Wood Flooring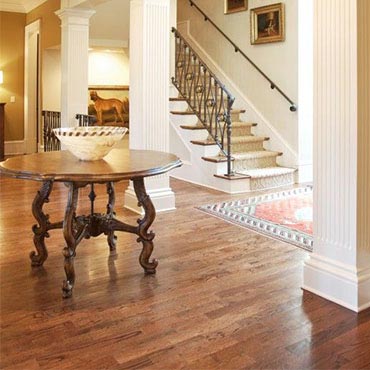 The year was 1955.  Elvis was taking Memphis by storm. In the lumber industry, a young man named Don Overmyer was making his mark in a small Alabama mill.  Trained on the green chain from the tender age of 12 at his father's company - Chattanooga Box & Lumber Co. - the young man had a keen eye for thickness, width, grade and species.  He also had a strong work ethic and was eager to learn everything about the business.  Little did he know that his talent and ambition would take him to the top of his own company in just 11 short years.
Upon his father's retirement in 1966, Overmyer saw that the company's primary product line - Coca Cola cases made of soft hardwood lumber from Mississippi River sawmills - would soon be obsolete.  The demise of returnable bottles meant the end of wooden beverage cases, so Overmyer sold his shares in the box plant and bought the Linden sawmill.
Today, under Overmyer's leadership, the small log yard known as Linden Lumber has grown into one of the most impressive hardwood lumber manufacturing operations with a second sawmill in Thomasville, AL and satellite log yards in Camden, AL and Hickory, MS.  The original yard located midway between Mobile and Birmingham, in some of the finest hardwood forest land in North America, has expanded from its original 14 acres to a massive yard covering more than 150 acres.  And the company has expanded into a new division - hardwood flooring.  In 1988, the first flooring line was built.  Due to the success of the hardwood flooring division, the Linden plant now runs 5 production lines and 1 factory finished line.
But the saga of Linden Lumber doesn't end here.  While Don Overmyer is still actively involved in the strategic management of the company, his son, Hugh, now heads up operations as Vice President and General Manager.  With a third generation helping lead the company into a new era, the rest of this story has yet to unfold.