Looking for Natural Stone Floors?
Look no further than Zimmer Marble.
---
About Zimmer Marble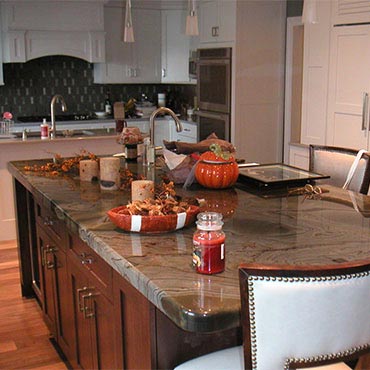 Zimmer Marble Company originated in August 1975.  Founded by Milt Zimmer, the small factory served kitchen and bath retail stores in Jackson, Michigan.  An early commitment to technical research and ongoing efforts to provide the best cultured marble products available, placed Mr. Zimmer among the leaders of the industry and positioned Zimmer Marble as one of the foremost manufacturers of case polymer products.  Now retired, Mr. Zimmer is still widely recognized and noted for his innovations and contributions to the industry.

In 1999, Joe and Phil Campau purchased Zimmer Marble.  They continue to utilize the most modern, scientifically proven raw materials available while at the same time maintain the time-honored techniques for which Zimmer Marble is well known.   Early on, Zimmer sought to serve those customers who wished to own custom made high quality fixtures.  This continues to be the guiding philosophy of the Zimmer craftsman.

With the help of a loyal and enthusiastic dealer network, the company serves satisfied customers throught Michigan, Indiana and Ohio.