Smart Tech Upgrades to Improve Home Function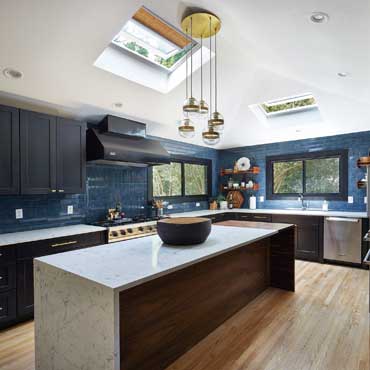 When smart home technologies first emerged, their purpose was largely for convenience and operating the devices was often clunky. Today, smart devices seamlessly integrate into connected home systems to make living more efficient, improve home security and even offer advantages for your health.

If you're considering upgrades to your home, smart technology is a savvy way to add value and function.

Energy Consumption

Smart lighting is among the most prevalent of smart functions on the market, largely because of the multiple benefits it offers. You can set regular lighting patterns and also manage those lights from your smartphone, so forgetting to turn off a light is no longer an issue and you can fool would-be-thieves into thinking the house is inhabited when you're away.

Another consideration is climate control, which accounts for a big chunk of a typical household's energy consumption. The idea of programming your thermostat is nothing new, but smart thermostats take programming to a whole new level. Not only can you schedule temperature changes to coincide with your coming and going (and manage those changes with an app when you're not even at home), today's smart thermostats also have sensors that learn your daily habits and can adjust the climate accordingly.

Air Quality

In an average home, the pollutant level is normally low when people first enter the house, or after effective ventilation. However, after an extended period of time, daily activities can raise the level of humidity and carbon dioxide to unhealthy levels that can cause headaches, dizziness and sleepiness, and can contribute to long-term health issues.

"Few are aware of the impact of indoor air on their health and wellbeing, but the air we breathe is just as important as the food we eat or the water we drink," said Kent Holm, senior vice president of global product management with the Velux Group. "An average adult breathes in around 4,000 gallons of air every day and spends up to 90 percent of their time indoors. A healthy indoor climate goes way beyond simple convenience."

Opening skylights in conjunction with vertical windows removes polluted air from the home and promotes an overall healthier lifestyle. An option such as Velux Active with Netatmo is the first smart skylight system that connects with Apple HomeKit, allowing homeowners to manage indoor climate control at home or remotely with the touch of a button.

In addition to manual controls, smart sensor technology monitors carbon dioxide, humidity and temperature in the home and data from local weather station forecasts to automatically open the skylights if fresh air is needed. The system can also automate skylight blinds. Learn more at whyskylights.com.

Peace of Mind

Home security takes numerous forms, from detecting threats like fire or water to physical barriers at the home's entry points. Smart technology is transforming the way homeowners manage their home's security and giving them added confidence that their families are safe within those walls.

Smart smoke alarms and carbon monoxide detectors offer enhanced sensory features as compared to traditional models, in addition to sending alerts to your smart devices when you're away. A smart sensor can also alert you of changes in your home's moisture level due to leaks or humidity so you can take preventive measures

Smart garage door openers and door locks make it easy to program access to guests who may not have a key or gain access when you've forgotten your key. Other smart security devices like doorbell and flood light cameras help you keep tabs on the traffic around your home.