3 Alternatives to Laminate Wood Flooring​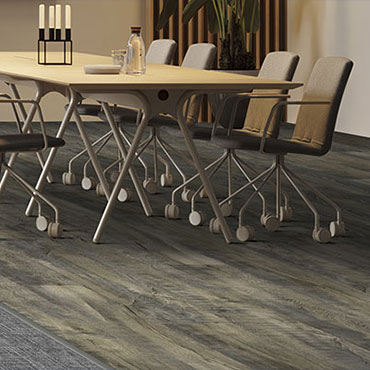 For years, laminate flooring has been the go-to choice for organizations looking to capture the timeless aesthetic of wood flooring without incurring its high costs of installation and maintenance.
But changes in flooring technology mean that wood laminate flooring isn't the only option to recreate the feel of wood flooring.
Today, we're sharing three alternatives to laminate flooring.
The Pros and Cons of Laminate Flooring
Laminated wood flooring is seen as a simple way to create the look of natural wood flooring for a fraction of the price. As well as having a lower purchase price, laminate is much simpler to install than wood flooring, offering additional cost savings during the installation process.
Laminate is more durable than wood flooring, thanks to its clear protective coating - usually a combination of melamine and aluminum oxide. However, this coating changes the aesthetic, giving added durability but yet compromising the design.
One further consideration is that laminate flooring is prone to warp if exposed to moisture - either through cleaning or from the subfloor. Extra care needs to be taken when cleaning laminate flooring, and you should carry out moisture testing prior to installation, to minimize the risk of moisture damage.
3 Alternative Flooring Options
1) Solid Wood Flooring
Many types of hard flooring aim to mimic the look of wood flooring, but solid wood flooring is the real thing.
Solid wood flooring is selected for its high-end aesthetic; it gives commercial spaces the "wow factor" in a way that can't quite be matched by other types of hard flooring, no matter how true to life their aesthetics.
With careful maintenance and use, wood flooring can last for years. However, softwoods like pine and cedar are susceptible to denting and gouging. While hardwoods - like oak and maple - are tougher, they can still be scuffed and dented by regular use.
The biggest drawback of solid wood flooring is the cost. As well as having a high purchase price, it requires specialist installation experience - which comes at a premium - and maintenance, to keep it looking its best.
2) Engineered Hardwood Flooring
Engineered hardwood flooring allows you to create the same look as with solid wood flooring: each plank has a layer of hardwood on top of a core that's commonly made from layers of ply that are bonded together. This allows it to achieve an aesthetic is closer to that of solid wood flooring than laminate.
Additionally, its engineered structure makes it more resistant to expansion and contraction than both solid wood and laminate flooring: moisture is less of a problem. However, the wood top layer makes it less durable than laminate flooring, which has a protective coating.
3) Luxury Vinyl Tile (LVT)
LVT is a durable and affordable alternative to laminate flooring. It creates the wood look through a photo-realistic print film layer, covered by a clear wear layer and polyurethane coating, which protects the design against scuffs and scratches. It's even possible to select LVT with a textured wear layer so that it more closely resembles real wood.
LVT also offers a host of additional benefits: it has a much quieter acoustic profile than either laminate, engineered hardwood or solid wood flooring, making it the preferred option for widespread commercial use. Its multi-layered structure also enables it to be more comfortable underfoot.
Choosing the Right Flooring Type
Laminate flooring is a popular flooring option, but there are several alternatives to consider alongside it. With so many different types of flooring to choose from, which can all create a similar aesthetic, two factors will have the biggest impact on your decision-making process: budget and practicalities.
When purchasing new flooring it's worth considering not only the purchase price but also the total cost of ownership - including expected lifetime, as well as your budget for care and maintenance.
Regarding practicalities, look beyond the aesthetics: how long will the flooring last, and how will it impact the indoor environment in terms of temperature, comfort and acoustics?
learn more about 3 Alternatives to Laminate Wood Flooring​


Milliken Luxury Vinyl Tile
From natural looks of wood and stone to more modern textures and abstracts, Milliken's collection of Luxury Vinyl Tile flooring creates new options for a commercial or hospitality interior.
---
Website