iQ POWER TOOLS Wins Back to Back Pro Tool Innovation Awards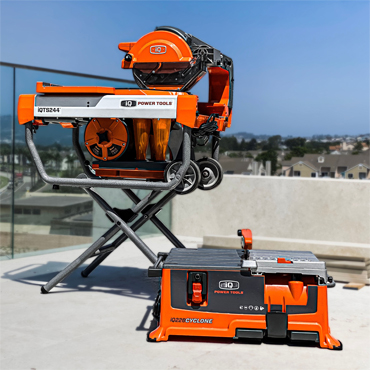 Moreno Valley, California, September 25, 2020 - Judges consisting of contractors, construction business owners, tradesmen, and media professionals voted on the most innovative construction and outdoor power equipment industry products in the world. This year, 78 different manufacturers and brands submitted over 320 products in dozens of categories for a chance to take home a 2020 Pro Tool Innovation Award.
PTIA judges stated about the iQ228CYCLONE, "iQ Power Tools has a heavy focus on creating dust collection second to none and turning wet-cutting applications into dry-cutting ones. Having been impressed by the quality and performance of their original dry cut tile saw, a smaller benchtop version makes it even more portable. It combines the same incredible dust collection with a smaller 7-inch saw that's common on jobsites."
Paul Guth, iQ's President commented, "Our entire team was quite excited to learn that the iQ228CYCLONE was a winner. With the iQ228CYCLONE being the newest member of our dry-cut saw collection, what a great way to introduce this 7" bench-top saw… with an Innovation Award!"
Sarah Hurtado, iQ's Marketing & Communications Manager added, "Winning this award two years in a row is a great honor. As a smaller company, we're keeping up with, and even surpassing, the 'big dogs' of the industry via innovative, well thought-out products. Like David and Goliath, ours is an ongoing story about the proverbial underdog going against all the odds... and being victorious!"
Guth concluded, "Product Innovation is vital to who we are as a company. At iQ, innovation allows us to not only build tough power tools, but to do so while developing ways to actually make a difference in our industry. We are grateful to be recognized for manufacturing products that contribute to safer job sites, healthier work practices, and a more sustainable construction industry."
iQ Power Tools manufactures a comprehensive range of premium power tools with integrated dust collection systems for the concrete, masonry, hardscape and tile sectors. The company was founded by third-generation masons Joel and Paul Guth, who have logged over 30 years each in the masonry industry. Decades of experience taught them about dust problems; their company started out creating tools to solve their own problems only to realize these same issues affected all contractors'… mess, money and a threat to the health and safety of the industry. iQ Power Tools envisions a future where their innovation helps create a 100% dust free environment: jobsites are safer, work practices are healthier... and, the construction industry becomes even more sustainable. www.iQPowerTools.com
learn more about iQ POWER TOOLS Wins Back to Back Pro Tool Innovation Awards