Looking for Area Rugs?
Look no further than Kane Area Rugs.
---
About Kane Area Rugs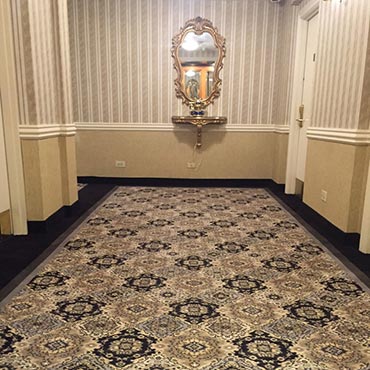 Kane Carpet-an established trend setter in the
broadloom
industry since 1947-is proud of its fashion forward philosophy, superior quality and business integrity. The element that drives our enduring, over half-century of success and creates our outstanding reputation is a customer- focused approach.
Our customer service and sales office is centrally located in Kennesaw, Georgia where our staff of seasoned professionals is committed to satisfying clients' needs. Kane offers a full range of services including pre-project consultation, custom color and pattern selections,
fiber
and
texture
recommendations and expert cost analysis.
We maintain inventory in our central distribution facility in Dalton, Georgia. This, combined with sales representatives in major cities throughout North America, Europe and the Middle East ensures prompt and efficient service-as quickly as 48 hours.
Kane Innovates, never imitates
In-house designers create trend setting patterns with state of the art weaving equipment. Creativity brought to fruition at our European and Asian facilities where stunning and intricate designs and custom combinations give Kane the design
flexibility
to make any fashion statement.
A perfect pairing: Gorgeous Styling and Durability