Looking for Countertop/Surfaces?
Look no further than Sistone Natural Stone.
---
About Sistone Natural Stone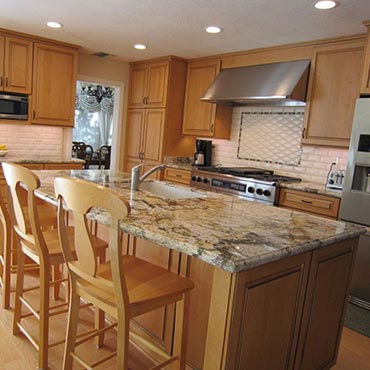 Founded in 1989, by Yair Sisso, Sistone Inc. has evolved into a full service Fabrication and Installation Company, specializing in natural stone and tile.

Sistone's clients consist of both Commercial and Residential Customers in need of custom made stone products including but not limited to, counter tops, floors, vanities, tub and shower surrounds, exterior cladding and even stone pieces for fine furniture.

Working with many different Natural Stone importers, Sistone supplies a vast range of stone types, colors and textures, including Granite, Marble, Travertine, Limestone and now, synthetically Engineered Stone.

The Sistone Fabrication Facility is state-of-the-art using unique equipment, specially designed and produced for Sistone Inc. A computerized Bridge Saw, with laser guided diamond cutting blades makes the first incision, then the Profile Cutter or a skilled hand craftsman creates the clients chosen edge style.

In most factories the water and slurry created is wasted, but Sistone utilizes a revolutionary Water Reclamation system, which not only recycles water, but creates a usable product from the slurry.

Currently located in Van Nuys, California, Sistone has approximately 60 employees, including 25 skilled installation specialists, who are at work installing stone sinks, kitchens and bathrooms, at an average of 5 locations a day. Also Sistone installers can provide demolition services and removal of existing surfaces.

Our Installers work in a Crew with a Lead whose job it is to see the job through from drawing board all the way through to the end. Each Crewmember is a life long technician specializing in their own field, and their level of skill is a notch above industry standards.

We will assist the client with design and stone selection. We will then make templates, which are used to determine the exact cuts to prepare the stone for fabrication. The chosen stone is then fabricated according to the dimensions of the template. From template to installation takes about 10 working days. A normal installation is usually completed on site in one day.

Sistone is proud to serve the residential and business needs of the Los Angeles area, and we also supply large commercial projects anywhere in the USA. Please visit our showroom in Van Nuys California.