Armstrong Laminate Flooring
Looking for a Armstrong Laminate Flooring store in the Lakeland area?
Look no further than Michael's Carpet & Vinyl.
---
About Armstrong Laminate Flooring
Armstrong Laminate Flooring has an eerie ability to visually duplicate the appearance of natural materials, with a trouble-free surface that resists spills and guards against stains, fading or abrasions. Armstrong Laminate Flooring comes in a wide selection of colors and styles, it is manufactured with high quality materials, and is easily installed. Some of the advantages of an Armstrong laminate flooring include:
---
Speak with a knowledgeable representative at Michael's Carpet & Vinyl and learn more about the quality and integrity of the Armstrong Laminate Flooring brand. Stop in and see them today at their Lakeland store or give them a call at 863-683-2853.
product catalog
---
NOTE:
Michael's Carpet & Vinyl does not carry every style of Armstrong Laminate Flooring at their Lakeland location. Check with them first about a particular product or to see if your product choice is available for special order.
---
Inspired New Longer Wood Lengths in Laminate from Armstrong Floors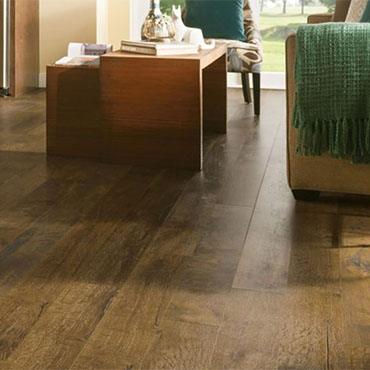 The big news in laminate flooring this year is Rustics Premium™ New England Long Plank, a dramatic line from Armstrong which offers a hand-scraped, oiled finish hardwood look and the longest laminate floor boards to date – over seven feet.
Learn More