Carpeting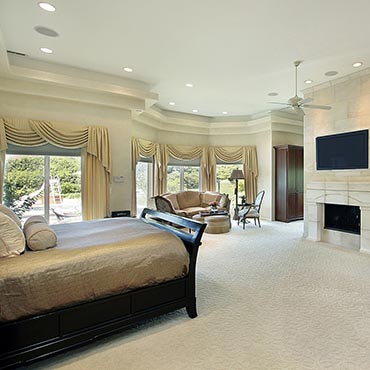 Choosing the Right Carpet - Quality Carpet and Installation from the Industry's Leading Manufacturers from Hamm's Flooring - Serving the Conroe Area
Nothing helps a room feel cozy and intimate like wall to wall carpet. At Hamm's Flooring, they carry living room and bedroom carpet in a variety of colors, patterns, and weaves from the industry's leading carpet manufacturers, like Kane Carpet, Anderson-Tuftex Carpet, Shaw Carpet, Mohawk Carpet, Caress Carpet by Shaw - all the better to accent your decor and walls. What's more, many of their brands are designed to be stain-resistant, which is perfect for those with children or pets. With its nearly unlimited color and texture choices, new carpet offers versatility like no other flooring option.
Why choose carpet?
There are many benefits to using
carpeting
, including:
Comfort - Nothing beats the softness of carpet flooring.
Durability - Quality carpets with the right care can last for many years.
Variety - With its large selection of colors, textures and patterns, carpeting can be tailored to complement any decor.
Safety - As a non-slick surface, carpet flooring puts safety first.
Noise reduction - Carpet reduces echoes and noise to lower levels of the home.
Choosing the right carpet
Carpeting comes in many varieties. Consider these factors as you shop for carpet flooring:
Material. The most common carpeting is made of nylon. It's comfortable, durable, and stain resistant. Other options include wool, polyester, and olefin, each with unique characteristics.
Color and style: Dark colored plush carpet can add intimacy to a room, but they can also show every piece of lint attracted to the floor. Lighter colors can brighten a room, but can also soil easily. From berber to plush, the color and style combinations of carpet flooring seem endless.
Quality: Like most investments for your home or office, carpet flooring comes in a variety of grades - and you often get what you pay for. Lower cost carpets may need to be replaced sooner, so the overall investment won't pay off.
Many Colors and Styles to Choose From
There are many styles of carpeting to choose from: recycled, needlepunch carpets, modular carpet tile, commercial
cut pile
, commercial cut/uncut, commercial cut/uncut (texture), and more. Below are some types of carpet you may have not considered:
Pet Friendly Carpet: Living with dogs, cats, and parrots can be a mess – especially when it comes to keeping carpet clean and smelling fresh. Equipped with built-in stain, spill and odor protection technology, pet-friendly carpet was designed with to withstand a slew of stains, spills, accidents, and scratches. When searching for pet friendly carpeting choose one that will hide pet accidents and has a good carpet warranty.
Carpet Tiles: Carpet squares are also available, typically 20 inches square. The peel and stick carpet tiles are affixed using a special pressure-sensitive glue, which holds them into place while allowing easy removal
Outdoor Carpet: There's no reason to not have carpet on your outdoor patio. Indoor outdoor carpet is weather-resistant, fade-resistant, mildew and mold resistant, and water-resistant. It's made to withstand the harsh elements of nature.
Berber Carpet: Tufted berber carpet is distinguished by its loop pile construction that gives it an appearance similar to the distinct knot of traditionally woven berber carpets. Modern berber carpet is made from a wide variety of materials, nylon, olefin, and wool are the most frequently used materials.
Carpet Runners: Carpet runners for stairs not only add style to an otherwise bland space, but it also provides safety. Exposed wood treads are beautiful but they can be slippery and dangerous. Other benefits of stair runner carpet include increased comfort and better noise absorption than a hard surface. Don't skimp, purchase the highest quality and highest durability nylon or wool stair carpet you can afford.
Visit their showroom on 2751 East Davis Street in Conroe to view their complete selection.
Before you buy
Carpet may seem like a simple element in your home - but choosing the right carpeting can be a challenge. The qualified carpeting experts at Hamm's Flooring can help you carefully balance your flooring
budget
against quality and home decor considerations to ensure your carpet selection looks great and can stand the test of time. They can answer questions like: How much does carpet cost? What is the best carpet for pets? Should I use carpet padding? Will the carpet match the drapes? And then, when it comes time to installing your new carpet, their professional installers will treat your project as their top priority.
Hamm's Flooring - Proudly serving the Conroe area since 1978. Call them today at 936-756-5602 for your consultation - they look forward to hearing from you!
Try Hamm's Flooring's Carpet Visualizer
They have the most advanced carpet visualizer on the planet. You can snap a photo of your room, and the tool will showcase the carpeting you select in your room in seconds. You can buy carpeting confidently, knowing that the carpet will match and fit your space. No apps to download and no lengthy instructions to read — it just works!
Learn More
---
NOTE:
Hamm's Flooring does not carry every style of carpeting. Check with them first about a particular product or to see if your product choice is available for special order.
---
#Berber Carpet #Carpet Base #Carpeting #Commercial (tufted) #Commercial Cut Pile #Commercial Cut Pile (pattern) #Commercial Cut Pile (texture) #Commercial Cut/Uncut #Commercial Cut/Uncut (pattern) #Commercial Cut/Uncut (texture) #Commercial Loop Pile #Commercial Loop Pile (pattern) #Commercial Loop Pile (texture) #Commercial Printed Carpet #Cushion Back Carpeting #Indoor/Outdoor Carpet #Modular Carpet Tile #Needlepunch Carpets #Patterned Carpet #Recycled #Saxony (plush) #Saxony (textured) #Sculptured/Cut & Loop #Shag Carpet #Spike Resistant Carpet #Synthetic Turf
The Most Advanced Visualizer on the Planet