Ceramic/Porcelain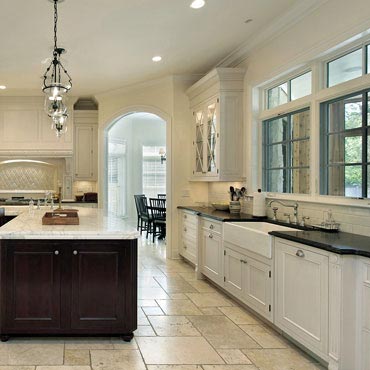 Enjoy Beauty and Durability with Ceramic Tile Flooring from Middle Georgia Tile Company, Dublin's Tile Sales and Installation Experts
Tile flooring has long been the flooring option of choice for many home improvement and interior decorating projects. Suitable for many areas of your home including kitchens, bathrooms, dining rooms, family rooms, and rec rooms, long-lasting ceramic tile floors offer the perfect combination of style and durability. Middle Georgia Tile Company has a large selection of tile from the industry's leading manufacturers, like Questech Tile, Happy Floors Tile, Shaw Tile Flooring, Floors 2000 Ceramic, Marazzi USA Tile among others.
Long-lasting Durability
From the ancient Romans to today's savvy homeowners, ceramic tile is a popular choice for many applications because of its durability and ease of maintenance. Tile flooring is the perfect flooring option for everywhere in your home from a busy entryway to a formal dining room, maintaining its quality and style in high traffic areas for decades with minimal maintenance. Given its long-lasting hardiness, ceramic tile flooring and other tile accents are well worth the investment - dollar for dollar, this flooring option increases the value of the home and minimizes the need for costly maintenance and repairs down the road.
Unsurpassed Style and Flair
Many homeowners find that the hardest part of putting in a new tile floor is selecting the ideal color, size, and style. Traditional tile flooring is a 4¼ square tile, but the industry's leading manufacturers continue to provide creative ceramic tile flooring options such as large 12x12 floor tiles and a wide variety of textures, styles, and colors. With tile floors, decorators can mix and match different ceramic tiles to create unique and distinctive room designs to accent or complement any home decor theme.
Many Colors and Styles to Choose From
There are many styles of ceramic and procelain tile to choose from: Mosaic Tile, Mosaic Tile (glazed), Bathroom Tile, Decorative Tile, Ceramic Tile, Spa / Pool Tile, and more. Visit their showroom on 1109 Hillcrest Parkway in Dublin to view their complete selection.
Ceramic Tile - What You Should Know Before You Buy
Whether you're just remodeling one room, looking to refresh your tile trim, or doing a complete home makeover, the qualified ceramic tile experts at Middle Georgia Tile Company can help you carefully evaluate your accent and flooring options to help you select the materials that meet your aesthetic needs and your project budget. When it comes time to install your new ceramic tile floor or tile trim accents, their professional installers will make your satisfaction their top priority. Middle Georgia Tile Company - Proudly serving the Dublin area since 1993. Call them today at 478-274-1153 for your flooring consultation - they look forward to hearing from you!
---
NOTE:
Middle Georgia Tile Company does not carry every style of ceramic/porcelain. Check with them first about a particular product or to see if your product choice is available for special order.
---
#Bathroom Tile #Ceramic Tile #Decorative Tile #Kitchen Tile #Mosaic Tile #Mosaic Tile (glass) #Mosaic Tile (glazed) #Porcelain Tile #Spa / Pool Tile