1 Kitchen Flooring Ideas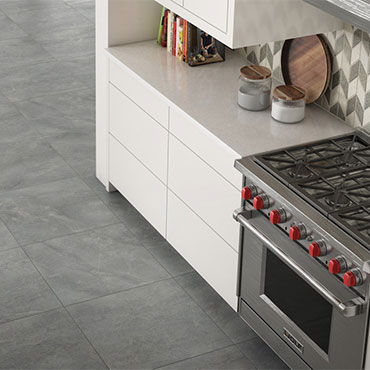 Kitchen Flooring
In need of a new floor for your kitchen? Kitchen flooring is one of the largest surface areas in the room, so the selection of the best flooring for kitchen warrants careful consideration. Regardless if a kitchen is being built from the ground up, demolished and rebuilt, or getting a needed facelift, renovations are a large commitment. Usually, a new kitchen is the largest financial investment than any other room in the home, so it's essential to choose the right type flooring. Kitchen flooring has to perform on many points – ease of cleaning, durability, safety – and it must look fantastic. Flooring deserves as much attention as your cabinetry.
Kitchen Flooring Ideas
Flooring ideas are often an afterthought in kitchen renovations, but that doesn't mean they should be. A moden kitchen floor needs to be comfortable, durable,
waterproof
, and easy to maintain. It is also a key design feature, and material, color, and style are equally important.
The flooring material should work together with the rest of your kitchen. With an open kitchen-living room floorplan, you may want to use contrasting floor materials to define zones. However, a popular option for smaller kitchens is to use the same floor throughout for a fluid, seamless space.
Kitchen Flooring Installation
Whichever type of material you choose, it is always better to get your floor installed by professionals. They can offer advise on the
subfloor
, quantities, and any special finishes or treatments that will extend the floor's life. Everything from measuring to installation is equally important, a single mistake can add thousands of dollars and weeks onto a kitchen renovation. Best to leave
kitchen flooring
installation to the professionals.
Kitchen Flooring Ideas on a Budget
The four best options for an inexpensive kitchen floor are:
vinyl
,
ceramic tile
,
laminate
, and
cork
. The good news, these
flooring materials
not only perform well in the kitchen but are available in a wide range of colors and styles.
When budgeting, be careful to include all installation costs and extra expenses for underlayment, fixatives, and grouts. If you're hoping to lay underfloor heating, check if it is compatible with your flooring before you buy.
Kitchen Flooring Options
A beautiful floor forms the foundation of any room design. Knowing the best flooring types for a kitchen is essential to get the most out of your home renovations. However, with flooring trends and so many kitchen flooring options available, it can feel overwhelming. Consider two factors when making a decision: durability and design. The kitchen is one of the most prominent rooms in the entire house. Therefore, you'll want a floor manufactured to withstand a ton of
foot traffic
over time. And due to frequent spills — whether it be soda, wine, sauce, or another food or liquid that tends to stain — you'll want kitchen flooring that's easy to clean and maintain.
The Best Kitchen Flooring
The top most durable kitchen flooring options include
rubber flooring
,
natural stone
, ceramic tile, vinyl, hardwood, and laminate. Since cooking usually requires long periods of standing and walking back and forth, a flooring with some cushioning is helpful, especially if you suffer from back issues. A
resilient floor
, or a floor that offers
flexibility
under foot, provides far more comfort than many other
hard surfaces
. The most ergonomic flooring options include rubber flooring, cushioned vinyl, cork,
engineered hardwood
, and laminate.