Welcome to The Carpet Store & More
Featured Brands
A trusted brand for over a century. Superior quality through exacting precision in the milling process and rigorous inspections featuring up to 75 quality checkpoints. A luxurious selection of design styles, colors, species, and specialty finishes.
The Anso nylon family of brands became part of Shaw Industries when the Honeywell Carpet Fibers division was acquired by Shaw in late 2005.
American Olean is capitalizing on our prominent name recognition and historically strong reputation as a quality provider of high-end ceramic tile to both commercial and residential users. The American Olean brand is distributed through approximately 100 independent distributors who service about 5,000 retail outlets. We will continue to increase our presence in the independent distibutor channel to better service our customers, particularly in floor tile products. American Olean is positioned as your preferred supplier of ceramic floor tile providing our customers with a true one-stop source.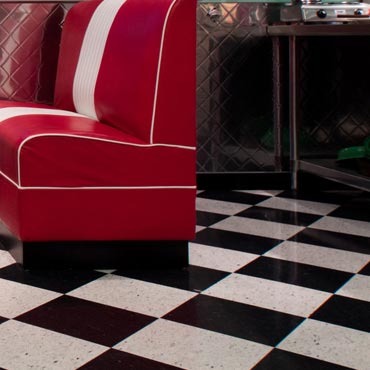 Azrock Textile VCT boasts a contemporary textile modular visual with the traditional value and durability of vinyl composition tile.
There's nothing like a quality wood floor to add that something extra to the atmosphere, whether it's for your home, a rustic wood cabin, a yoga studio or a trendy pad in the city. Surely we don't have to convince you, since you're visiting our website… Tempting as it may be, let's not base our decision on aesthetics alone. When you weigh in the environment, health benefits, ease of maintenance, durability and cost, Harris Wood engineered wood floors are one of the best investments you can make.
For generations Congoleum flooring products have been an important part of America's homes.